Facts about Botox®
| | |
| --- | --- |
| Application areas | Frown lines, forehead wrinkles, crow's feet, nose wrinkles, lip wrinkles, chin wrinkles |
| Duration | About 10 - 20 minutes |
| Anaesthesia | Numbing cream available upon request |
| Aftercare | Protection from heat and sun, no sauna & solarium for 3 - 5 days |
| Presentable | Immediately |
Would you like to smooth out some of your expression lines, leaving your skin looking refreshed and even?
At California Skin in Wiesbaden, we'd be happy to help you realise this wish with Botox® wrinkle treatments!
Our specialised, licensed doctors work with precision to removewrinkles by administering Botox® injections, focusing above all on realising your individualwishes and expectations.
At California Skin, we exclusively use premium fillers supplied by reputable manufacturers such as Galderma and Allergan. When it comes to the results, our top priority is to use fillers to create a natural appearance that suit your facial features.
The consultation
We plan every wrinkle treatment individually at our studio in Wiesbaden.
To begin with, you will receive an extensive personal consultation. This gives you the opportunity to discuss the wrinkles you find troubling and aspects of your appearance you wish to enhance with the specialist treating you. Then, based on this discussion, we will draw up a treatment concept tailored to your needs and wishes.
The treatment
You should not wear any makeup for your wrinkle treatment. In addition, you may need to stop taking certain medications for a temporary period.
The Botox® wrinkle treatment itself only takes a few minutes. The doctor treating you will numb the surface of your skin with a special salve to make the treatment as pleasant as possible for you. They will then use very fine cannulas to inject the Botox® into the skin. As we aim to achieve a natural anti-ageing effect, the doctor treating you will administer a very small amount of botulinum toxin, proceeding with absolute precision and the utmost caution to eliminate the risk of overcorrection.
As a result, you may find that a single filler treatment does not instantly remove all your wrinkles and lines. It could take several treatment sessions to achieve your desired results.
After the treatment
After a wrinkle treatment, you must protect your face against direct sunlight and heat. You should avoid exercise and visits to the sauna or solarium for the first 3 to 5 days. It is also important not to lie down for the first few hours after the procedure. During this time, the Botox® will still be spreading out in your skin.
It can take a few days for the Botox® to take full effect and remove the targeted wrinkles. The final results will be visible after around 3 days and last, on average, around 4 to 9 months. After that, we can perform a refresher anti-ageing treatment at any time.

Benefits of choosing California Skin in Wiesbaden
Specialists in Botox® wrinkle treatments
Personal consultation & treatment
Scheduling allows plenty of time for each injection
Premium-quality products
Treatment subject to strict hygiene regulations
Natural-looking results

FAQs about wrinkle treatments with Botox® in Wiesbaden

Contact us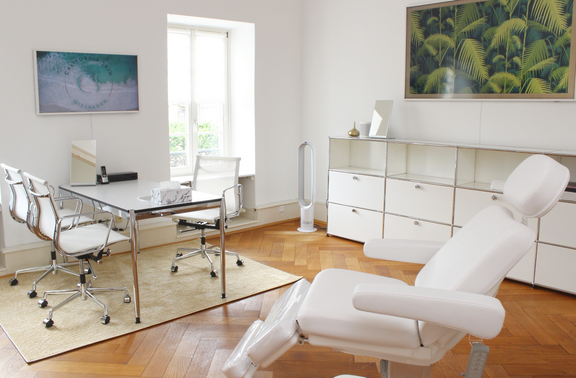 California Skin Wiesbaden
Luisenplatz 1
65185 Wiesbaden
E-mail: wiesbaden@california-skin.de
Phone: 0611 95244045
Appointments by arrangement
Note: Please bring proof for your appointment that you have been vaccinated, recovered or tested (rapid test, valid for a maximum of 24 hours).