Facts about Lip fillers
| | |
| --- | --- |
| Application areas | Narrow lips, lack of contours, lip wrinkles |
| Duration | About 30 minutes |
| Anaesthesia | Numbing cream |
| Aftercare | Sun protection, cooling, no solarium & sauna for 3 - 5 days |
| Presentable | Immediately |
| Prices | From 290€ |
Do you wish your lips had more volume? Maybe you'd prefer more defined lip contours?
Here at California Skin in Wiesbaden, we can help you to realise your wishes, taking into account your lips' natural shape and your individual needs.
Our specialist, licensed doctors will use hyaluronic acid as a gentle, natural way to shape your lips and work with you to find the right solution for your lips and expectations. At California Skin, we exclusively use premiumquality, highly compatible hyaluronan fillers from reputable manufacturers such as Allergan and Galderma to augment and shape your lips.
The result is a fuller, attractively curved mouth that pairs harmoniously with your facial features.
The consultation
At our studio in Wiesbaden, we will start your treatment by inviting you to an extensive personal consultation.
We will discuss your individual expectations and wishes and develop a tailored treatment concept based on the natural shape of your lips.
The treatment
The injections and correction only take a few minutes, depending on the treatment. We apply a topical anaesthetic to the mouth region, which means that the treatment is as painless as possible for you. The specialist treating you will then begin to inject the hyaluronan into your lips. They will proceed very carefully to avoid the risk of overcorrection.
After the treatment
After a lip filler treatment, you'll be able to get back to your work and social commitments straight away.
The results will be visible immediately. However, your lips may be slightly swollen for a time following the procedure. You should be able to effectively remedy any initial swelling by gently cooling the lips. Any slight discolouration can be easily concealed with makeup. After having lip fillers, you should protect your face against heat and direct sunlight. You should also avoid exercise and visits to the sauna and solarium for a few days. The hyaluronan injected in your lips will remain malleable for the first few weeks, so it is important to avoid applying pressure to them.
At our studio in Wiesbaden, we exclusively use premium hyaluronan compounds in our lip augmentation treatments. Hyaluronic acid occurs naturally in human connective tissue, which means it offers excellent compatibility.
The hyaluronan acts as a fluid reservoir in the skin, thus keeping it looking firm and fresh. We make use of this quality by injecting hyaluronan into the lips, which leaves your lips looking plump and thoroughly refreshed.
At California Skin, we do not have a fixed price for lip fillers as we tailor every treatment to our clients' individual needs. As a rough guide, however, prices for lip filler treatments start from €290. We will provide more detailed pricing information during your consultation.

Benefits of choosing California Skin in Wiesbaden
Licensed doctors specialising in lip filler treatments
No risk of overcorrection thanks to precise dosages
Individual treatment concepts tailored to each client's needs
Detailed personal consultation and clarification
Premium-quality products
Treatment subject to strict hygiene regulations

FAQs about lip fillers in Wiesbaden

Contact us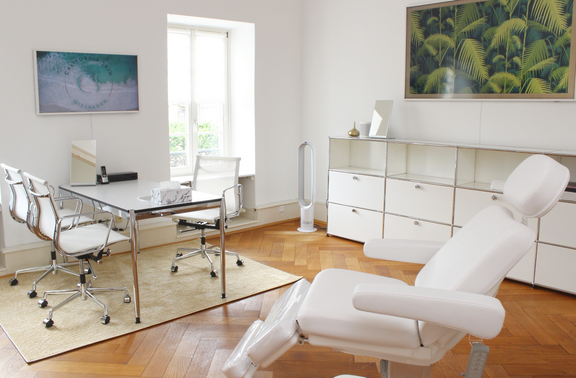 California Skin Wiesbaden
Luisenplatz 1
65185 Wiesbaden
E-mail: wiesbaden@california-skin.de
Phone: 0611 95244045
Appointments by arrangement
Note: Please bring proof for your appointment that you have been vaccinated, recovered or tested (rapid test, valid for a maximum of 24 hours).